---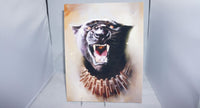 A black panther is the melanistic colour variant of the leopard (Panthera pardus) and the jaguar (Panthera onca). Black panthers of both species have excess black pigments, but their typical rosettes are also present. They have been documented mostly in tropical forests, with black leopards in Kenya, India, Sri Lanka, Nepal, Thailand, Peninsular Malaysia and Java, and black jaguars in Mexico, Panama, Costa Rica and Paraguay. Melanism in the leopard is caused by a recessive allele, and in the jaguar by a dominant allele.
All our Fine Art Prints are printed on Hahnemühle William Turner paper with 100 year plus Epson ink.
About Hahnemühle William Turner
310 gsm · 100% Cotton · white · genuine mould-made paper
Hahnemühle William Turner is a traditional mould-made watercolour paper with a coating that is ideal for FineArt applications. The white cotton paper does not contain optical brighteners and is characterised by its unique tactile feel and surface texture. The fine yet highly pronounced felt structure of the genuine mould-made paper gives photographs and art reproductions a striking depth and three-dimensional effect. The premium matt inkjet coating guarantees excellent print results with outstanding reproduction of colour and detail, impressive contrasts and deep blacks. William Turner is acid- and lignin-free and meets the most exacting requirements in terms of age resistance. The characteristic feel and structure guarantees extraordinary FineArt prints and art reproductions with artistic flair.
*Covid-19 Policy*
The whole industry is impacted from Covid-19. We are not excluded from this disruption. Online orders have increased at Black Friday and Cyber Monday levels. There have been delays in the entire supply chain. The pandemic and rules in place for running business, we cannot run our business as if we are ramping up for the busy season.
Employee safety is our top priority, this includes the warehouse, distribution center, and our supply chain.  In our centers, we have increased the frequency of disinfection, we are using protective equipment, we are staggering employee shifts, we are observing social distancing. So not as many people now work at the facilities at the same time than they used to.
There maybe delays with orders but rest assure we are working hard to fulfill ever order.
Some items may run out of stock and may return in months.
Due to Covid-19 we are not taking returns. We will work to fix your item if we made a mistake.
Packages may come from different locations. Due to Covid-19 we had to work with many different companies in order to get our orders fulfilled.